Welcome to the Computer Science Department
The Computer Science department at St Monica's strives to provide our students with the knowledge they need to be able to understand, use and develop digital technology. We want our students to think critically about the digital world and the way it impacts on their lives.
Curriculum Intent
The curriculum is designed to allow students to have access to transferable knowledge through both Computer Science and Information Technology and to be young people capable of making informed choices about the systems and processes that drive technology. We strive to deliver Computer Science which is engaging and practical, encouraging critical thinking and creativity as well as developing computational thinking and problem-solving skills. Students should be able to work safely online with a clear understanding of procedures to follow if they do not feel safe.  We aim for the students to leave St Monica's as educated digital citizens with the knowledge to thrive in an ever-changing digital world.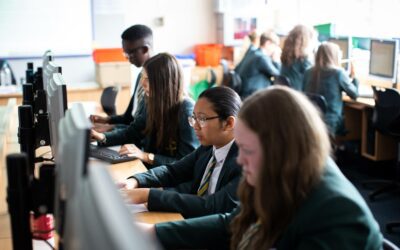 Computer Science Staff
Head of Computer Science: A Maher       amaher@stmonicas.stoccat.org.uk
Teacher of Computer Science: S White    swhite@stmonicas.stoccat.org.uk
How Computer Science links to our PSHE programme
Computer Science teaching is based on the principles of respect and responsibility. It is important that pupils understand how to act with dignity and courtesy online so that they become responsible citizens who use the internet in positive ways.
Assessment  Overview
Assessment takes place at key points throughout the year at St Monica's. Details about Summative Assessments (tests) are provided below in the Assessment Overview document.  Knowledge and learning is also regularly checked and assessed more informally throughout the lessons on a day-to-basis (formative assessment.) Teachers use a range of strategies in lessons such as questioning, quizzes, mini whiteboards to check that knowledge is secure.
Feedback to assessments takes a variety of forms, including whole class feedback, verbal feedback and personalised feedback. Pupils are expected to respond to the feedback given to help move their learning forward.
Click here to view our assessment overview
Key Stage 4 Outline and Rationale
At Key Stage 4 we currently offer two courses: GCSE Edexcel Business Studies and GCSE OCR Computer Science.
GCSE – Computer Science (9-1) – J277 (from 2020) – OCR
Edexcel GCSE Business (2017) | Pearson qualifications
To find out more about the Computer Science or Business curriculum, please email amaher@stmonicas.stoccat.org.uk