Welcome to the Food Technology Department
The aim of the Food Technology course is to inspire in pupils a sense of excitement in this practical subject.  Pupils are encouraged to develop knowledge of healthy eating, sustainable living and being able to provide a healthy, balanced diet.
Curriculum Intent
In Food Technology during KS3 students will develop an understanding of the many items I can make at home and in my future life. To think about where food comes from. An opportunity to reflect on the food choices they make and how that affects their health. They will develop cooking skills that can provide a variety of homemade family meals. They will learn about meals from around the world and how to make them. They recognise the feelings we gain from cooking for ourselves and how they can apply to life. Students will be challenged to work safely and work to a timeframe! They will develop an awareness that cooking is enjoyable and essential in looking after themselves.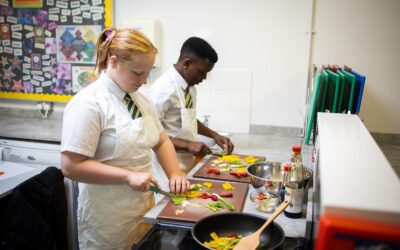 Curriculum Overview
Our curriculum map below outlines the programme of study in Food for all pupils from Year 7 to Year 11. We build on knowledge from Key Stage 2 and prepare our students for life beyond St Monica's.
Click here to view our Food Technology curriculum overview.
Learning Journeys
Our learning journeys outline, in a visual format, the key knowledge that is shared with pupils in each year group. They provide a reference point for teaching and sharing knowledge in lessons.
Click here to view our learning journeys.
Knowledge Organisers
We use knowledge organisers to support our teaching in the classroom and as homework. They contain key knowledge, concepts and key terms.
Staff
Teacher of Food: R Glossop                                   rglossop@stmonicas.stoccat.org.uk
How Food links to our PSHE programme
Food Technology develops children's creativity, independence and patience. It encourages them to think about valuing the food we have whilst living responsible and sustainable lives.
Key Stage 4 Outline and Rationale
Pupils in Year 10 and Year 11 follow the AQA Food, Preparation and Nutrition course 8585.
Useful websites
AQA | Food | GCSE | Food Preparation and Nutrition
To find out more about the Food Technology curriculum, please email rglossop@stmonicas.stoccat.org.uk