Welcome to the MFL Department
The MFL department is made up of a team of experienced teachers of French and Spanish. We aim to inspire in our pupils a passion for travel and the exploration of God's earth. We want them to explore, travel and visit the world beyond St Monica's. We want our students to feel the excitement of speaking a different language and communicating with people around the world.
Curriculum Intent
Together, in MFL, our intention is to make language learning a purposeful, inspirational and enjoyable experience. This is achieved by creating confident linguists who are competent at communicating effectively in the real world and have an understanding that the three pillars of language learning; phonics, grammar and vocabulary, will equip them with the linguistic building blocks to study other languages in the future, thus raising aspirations to compete for jobs in the international marketplace. We strive to encourage pupils to take an active interest in other cultures and nurture a deepening curiosity about how others live, breaking down barriers between different cultures and inspiring pupils to be committed global citizens of the world.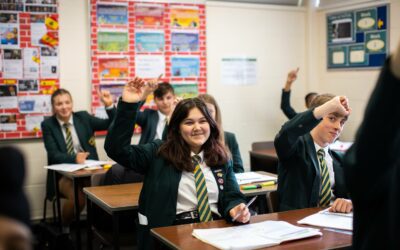 How MFL links to our PSHE programme
The MFL curriculum teaches our pupils the value of learning about the language and culture of countries around the world. It teaches them the wonder and excitement of travel and having the confidence to speak in a different language. We encourage respect in the classroom and encourage all students to listen to and encourage each other.
Key Stage 4 Outline and Rationale
We follow the GCSE AQA French or Spanish course. We offer two languages but alternate them.
Assessment  Overview
Assessment takes place at key points throughout the year at St Monica's. Details about Summative Assessments (tests) are provided below in the Assessment Overview document.  Knowledge and learning is also regularly checked and assessed more informally throughout the lessons on a day-to-basis (formative assessment.) Teachers use a range of strategies in lessons such as questioning, quizzes, mini whiteboards to check that knowledge is secure.
Feedback to assessments takes a variety of forms, including whole class feedback, verbal feedback and personalised feedback. Pupils are expected to respond to the feedback given to help move their learning forward.
Click here to view our assessment overview
Useful websites
https://www.bbc.co.uk/bitesize/subjects/z9dqxnb
https://www.bbc.co.uk/bitesize/subjects/z4dqxnb
To find out more about the MFL curriculum, please email mlewis@stmonicas.stoccat.org.uk