Welcome to the English Department
We are an enthusiastic and hard-working team of specialist English teachers. We aim to provide equal learning opportunities for all. We build strong relationships with our students   developing respect, support and encouragement throughout their learning journey at St Monica's. Students enjoy learning in the classroom and also through the wide range of extra- curricular opportunities we offer.
Curriculum Intent
English is central to the curriculum and to society. Our intent focuses on pupils' ability to communicate with others, expressing their well-informed ideas and emotions on society with articulation and fluency through the written and spoken word. The English Department aim to foster a love of literature and through reading a wide variety of literary heritage and modern texts, pupils acquire knowledge of the world around them developing culturally, emotionally, intellectually, socially and spiritually. Our pupils become fully functioning members of society, living out Gospel Values; respecting inherent human dignity, living with humility, having the desire to serve others before themselves, becoming Catholics of character who can make the world a better place.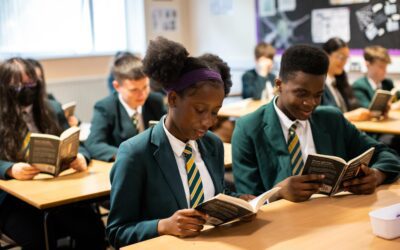 Access to our knowledge organisers can be found through in the section Knowledge Organisers.
How English Links to our PSHE programme
All texts studied encourage the study of our Gospel values: Faith, Honesty, Dignity, Integrity, Humility and Justice, giving rise to appropriate discussions which take place in classrooms.