Welcome to the Geography Department
The Geography department is made up of a team of experienced Geography specialists. Our specialisms lie equally in both physical and human Geography. Our fundamental aim is to create young people with a strong sense of responsibility and stewardship of God's earth. We want to inspire and teach our students about the beauty of the world and to have the desire to explore, travel and visit the world beyond St Monica's.
Curriculum Intent
Geography is the study of places and the relationship between people and their environments. Our Geography curriculum at St. Monica's aims to inspire pupils' curiosity and fascination with the world and its people, which will remain with them for the rest of their lives. Pupils will develop a sound knowledge of diverse people, places, resources, and human and physical environments. We endeavour to encourage our students to become global citizens and contribute to their spiritual, moral, social and cultural development. We ensure progression by introducing interactions between physical and human Geography. Engaging, relevant and manageable fieldwork allows our pupils to examine our fascinating world first-hand.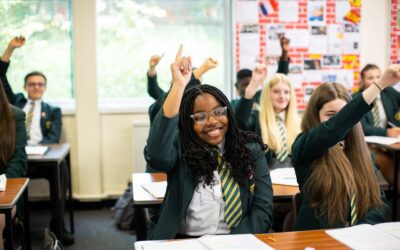 Geography Staff
Head of Geography: R Day                       rday@stmonicas.stoccat.org.uk
Second in Geography: E Watson             ewatson@stmonicas.stoccat.org.uk
Teacher of Geography: E Caldwell        ecaldwell@stmonicas.stoccat.org.uk
Teacher of Geography: I Derere           iderere@stmonicas.stoccat.org.uk
How Geography links to our PSHE programme
The Geography curriculum teaches our pupils the importance of stewardship; that, as young Catholics, we have the responsibility of caring for the people and places on God's planet. We encourage our pupils to understand that there is an inequity of wealth across the world and that we are fortunate to be able to help and shape the lives who have less than we do.
Key Stage 4 Outline and Rationale
We follow the Edexcel Geography Specification in Year 10 and Year 11 and have experience of delivering this specification for a number of years.
Assessment  Overview
Assessment takes place at key points throughout the year at St Monica's. Details about Summative Assessments (tests) are provided below in the Assessment Overview document.  Knowledge and learning is also regularly checked and assessed more informally throughout the lessons on a day-to-basis (formative assessment.) Teachers use a range of strategies in lessons such as questioning, quizzes, mini whiteboards to check that knowledge is secure.
Feedback to assessments takes a variety of forms, including whole class feedback, verbal feedback and personalised feedback. Pupils are expected to respond to the feedback given to help move their learning forward.
Click here to view our assessment overview
Useful websites
Geography B (9–1) from 2016 | Pearson qualifications
To find out more about the Geography curriculum, please email rday@stmonicas.stoccat.org.uk