Welcome to the Art Department
Students are exposed to a range of artists, art forms and movements. They learn how to analyse and evaluate their own work, and that of artists while studying art, craft, and design from ancient times up to the present day. The Art department is an enthusiastic and hard-working team of specialist Art teachers who provide exciting and equal learning opportunities for all. We build strong relationships with our students who enjoy learning in the classroom and also through the wide range of extra-curricular opportunities we offer.
Curriculum Intent
In Art, KS3 Students will develop an understanding of formal elements, a range of media including sculpture, and artists from ancient history to the present day to appreciate that there are many ways to produce art, how starting points can encourage imaginative thinking and that exploration and practice will improve their proficiency in making successful art. They will develop confidence in being experimental and working accurately, learn how being creative is useful in expressing ideas and looking at the world differently, recognise the feelings they gain from creating and how this builds concentration and resilience that can be used in other areas of life. They will be challenged to 'try it out, 'explore', 'take risks', building their confidence to not worry if it goes wrong! They will develop an awareness of creativity around them and know about what it might mean, and how and why it was made.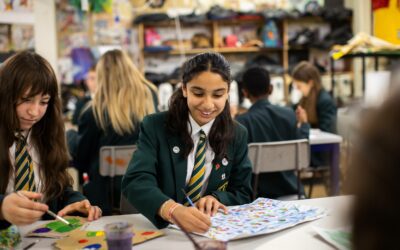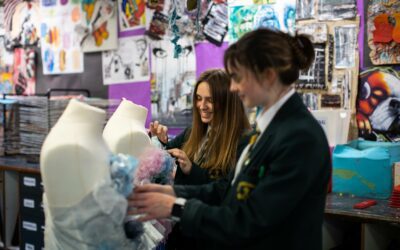 Curriculum Overview
Our curriculum map below outlines the programme of study in Art for all pupils from Year 7 to Year 11. We build on knowledge from Key Stage 2 and prepare our students for life beyond St Monica's.
Click here to view our Art curriculum overview.
Learning Journeys
Our learning journeys outline, in a visual format, the key knowledge that is shared with pupils in each year group. They provide a reference point for teaching and sharing knowledge in lessons.
Click here to view our learning journeys.
Knowledge Organisers
We use our Knowledge Organisers as part of our teaching of key knowledge and disciplinary vocabulary.
How Art links to our PSHE programme
Students are encouraged to be openly creative in their expression of Art. We encourage their resilience by not allowing them to give up. They develop respect, support and encouragement throughout their learning journey at St Monica's
Assessment  Overview
Assessment takes place at key points throughout the year at St Monica's. Details about Summative Assessments (tests) are provided below in the Assessment Overview document.  Knowledge and learning is also regularly checked and assessed more informally throughout the lessons on a day-to-basis (formative assessment.) Teachers use a range of strategies in lessons such as questioning, quizzes, mini whiteboards to check that knowledge is secure.
Feedback to assessments takes a variety of forms, including whole class feedback, verbal feedback and personalised feedback. Pupils are expected to respond to the feedback given to help move their learning forward.
Click here to view our assessment overview
Key Stage 4 Outline and Rationale
Pupils in Year 10 and Year 11 follow the Art, Craft and Design Fashion and Textiles course by AQA 8200. Staff have expertise in delivering this specification and the Head of Art is an experienced moderator of this specification.
AQA | GCSE | Art and Design | Specification at a glance
To find out more about the Art curriculum, please email agates@stmonicas.stoccat.org.uk