Welcome to the Design Technology Department
The aim of Design Technology is to inspire in pupils a sense of excitement in this practical subject. Design Technology develops an understanding of design, structures, mechanisms, electrical control, and a range of materials. Pupils are encouraged to work creatively to challenge themselves to create and develop new technologies.
Curriculum Intent 
In Design Technology during KS3, students will develop an understanding of using machinery and tools safely so they can work practically to create handmade outcomes. They will learn to think about the suitability of designs from the world we live in and how designing to solve problems can have a real impact on improving the lives of the consumer. They will have an opportunity to reflect on a wide range of materials and their uses and applications. Develop technical drawing skills to communicate design ideas and functions. Learn how sometimes designing and making things takes time and needs us to be resilient so that the quality or problem we are solving is successful. Recognise the feelings we gain from making and how they can apply to areas of our life. Students will be challenged to 'be inventive' and make models that work! They will develop an awareness that design surrounds us and can be used to make a difference.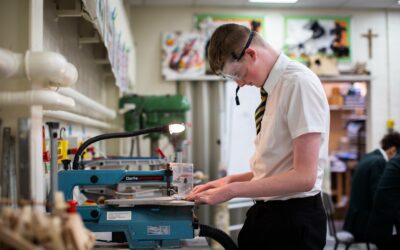 Curriculum Overview
Our curriculum map below outlines the programme of study in DT for all pupils from Year 7 to Year 11. We build on knowledge from Key Stage 2 and prepare our students for life beyond St Monica's.
Click here to view our Design Technology curriculum overview.
Learning Journeys
Our learning journeys outline, in a visual format, the key knowledge that is shared with pupils in each year group. They provide a reference point for teaching and sharing knowledge in lessons.
Click here to view our learning journeys.
Knowledge Organisers
Our Knowledge Organisers support our delivery of key knowledge.